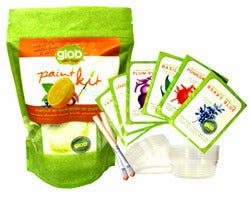 $

18.00
Everything you need in one convenient DIY (do-it-yourself) kit!
Includes: 6 color packets, 6 compostable jars with lids, 2 bamboo brushes with recycled aluminum (cruelty-free) in a rice paper pouch
6 VIBRANT BOTANICAL COLORS: Lemon Verbena, Blueberry, Pomegranate, Tangerine, Plum Purple and Basil Green
Kit includes: 6 color packets, 6 compostable PLA jars with lids and 2 bamboo brushes. Our brushes have a sustainable bamboo handle with cruelty-free taklon bristles and ferrule made from recycled aluminum.
These water-soluble pigments become paint just by adding water.
Each packet makes between 1-3 oz of paint. For multiple uses. A little goes a long way!
Do-it-yourself recipes included with color packets. Similar to watercolor, fingerpaint or tempera, depending upon how much water is used.
Color your creative projects: paint on paper, make homemade play-dough, and more!
It's best to just mix what you need, and save the rest of the dry pigments for the next time.
All natural. Non-toxic. Conforms to safety standards ASTM D 4236, EN71 and the CPSIA. Recommended for ages 3 and up. Colors may stain. It's only natural.
Ingredients: gum arabic, plant starch, natural colors (one or more of the following: fruit, vegetable, flower, and spice pigments), organic extracts and food-grade preservatives.